PRESS RELEASE – FOR IMMEDIATE RELEASE
by Andrew Oakley andrew@aoakley.com
website: cotswoldjam.org
press release date: Wed 22 Oct 2014
event date: Sat 22 Nov 2014, 1pm
Gloucestershire will see its first Raspberry Jam computing event on Saturday 22nd November 2014, as the network of coding clubs comes to Cheltenham.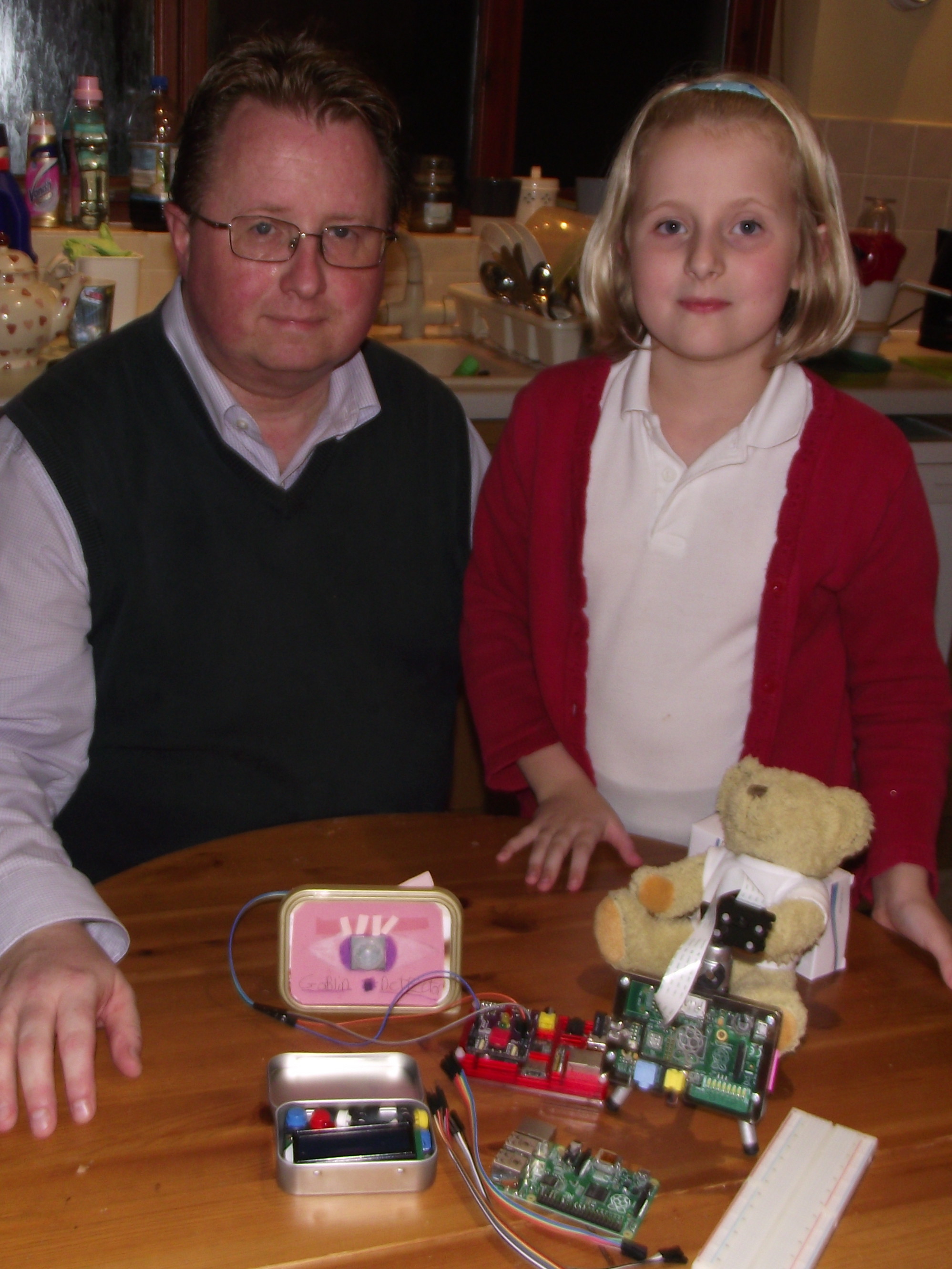 Andrew Oakley and daughter Annabel with their Raspberry Pi computers at home
Download hi-res
Cotswold Raspberry Jam is a get-together which helps people learn about the Raspberry Pi computer, a £25 computer designed to teach children to write computer programs. The Raspberry Pi has also been widely adopted by adult robotics hobbyists. The computers are made in the UK under the steer of the Raspberry Pi Foundation, an education charity based in Cambridge.
The first event is scheduled for the afternoon of Saturday 22 November 2014 in a conference room on Cheltenham's Promenade. On the agenda are hands-on demonstrations, plus a tutorial that can teach you how to write a program and wire up some electronics to make a jelly baby scream!
Tickets are free. A third of tickets are reserved for children aged 6 and over. Children under 14 must be accompanied by an adult. You can get free tickets, and find out more, at the website:
The group intends to hold a Raspberry Jam event in Cheltenham every two months.
Organisers Andrew Oakley and Andy Baker are both dads who were driven to set up the event through their own enthusiasm, and the enthusiasm of their children.
"My daughter and I had been to similar events in Coventry and London, but we couldn't find anything locally, especially not for children. A fellow hobbyist in Cirencester, Andy Baker, was also looking to start a local Raspberry Pi group, so we got together and organised it," said Andrew Oakley, from Tewkesbury, one of the organisers. "I'd really like to thank HESA, the Higher Education Statistics Agency, for offering us use of the conference room at their offices on the Promenade," he added.
"When I was a teenager, I learnt computing through a BBC Micro computer – the Raspberry Pi is the modern equivalent, but better in every possible way," said organiser Andy Baker. "I've been playing with the Raspberry Pi for a couple of years and felt I could give something back to the kids of today. Kids today are consumers of computing – smart-phones, tablets and laptops; the Raspberry Pi opens up creativity with computing. The electronics are tangible, the software is open source, and the price makes them affordably breakable!"
A Higher Education Statistics Agency spokesman said "HESA is a local education charity whose main business is software programming, so we are very proud to support the Cotswold Raspberry Jam in Cheltenham."
Contact Details
Andrew Oakley, Tewkesbury – Organiser
email andrew@aoakley.com (email address may be published)
mobile phone number available on request (not for publication)
Andy Baker, Cirencester – Organiser
email andy@pistuffing.co.uk (email address may be published)
mobile phone number available on request (not for publication)
Simon Kemp – Press Officer, Higher Education Statistics Agency (venue, Cheltenham)
email simon.kemp@hesa.ac.uk
tel 01242 211120
More information – About the Raspberry Pi computer and the Raspberry Pi Foundation charity
Website: raspberrypi.org
• What is a Raspberry Pi?
The Raspberry Pi is a low cost, credit-card sized computer that plugs into a computer monitor or TV, and uses a standard keyboard and mouse. It is a capable little device that enables people of all ages to explore computing, and to learn how to program in languages like Scratch and Python. It's capable of doing everything you'd expect a desktop computer to do, from browsing the internet and playing high-definition video, to making spreadsheets, word-processing, and playing games.
What's more, the Raspberry Pi has the ability to interact with the outside world, and has been used in a wide array of digital maker projects, from music machines and parent detectors to weather stations and tweeting birdhouses with infra-red cameras. We want to see the Raspberry Pi being used by kids all over the world to learn to program and understand how computers work.
• What is the Raspberry Pi Foundation?
The Raspberry Pi Foundation is a registered educational charity (registration number 1129409) based in the UK. Our Foundation's goal is to advance the education of adults and children, particularly in the field of computers, computer science and related subjects.